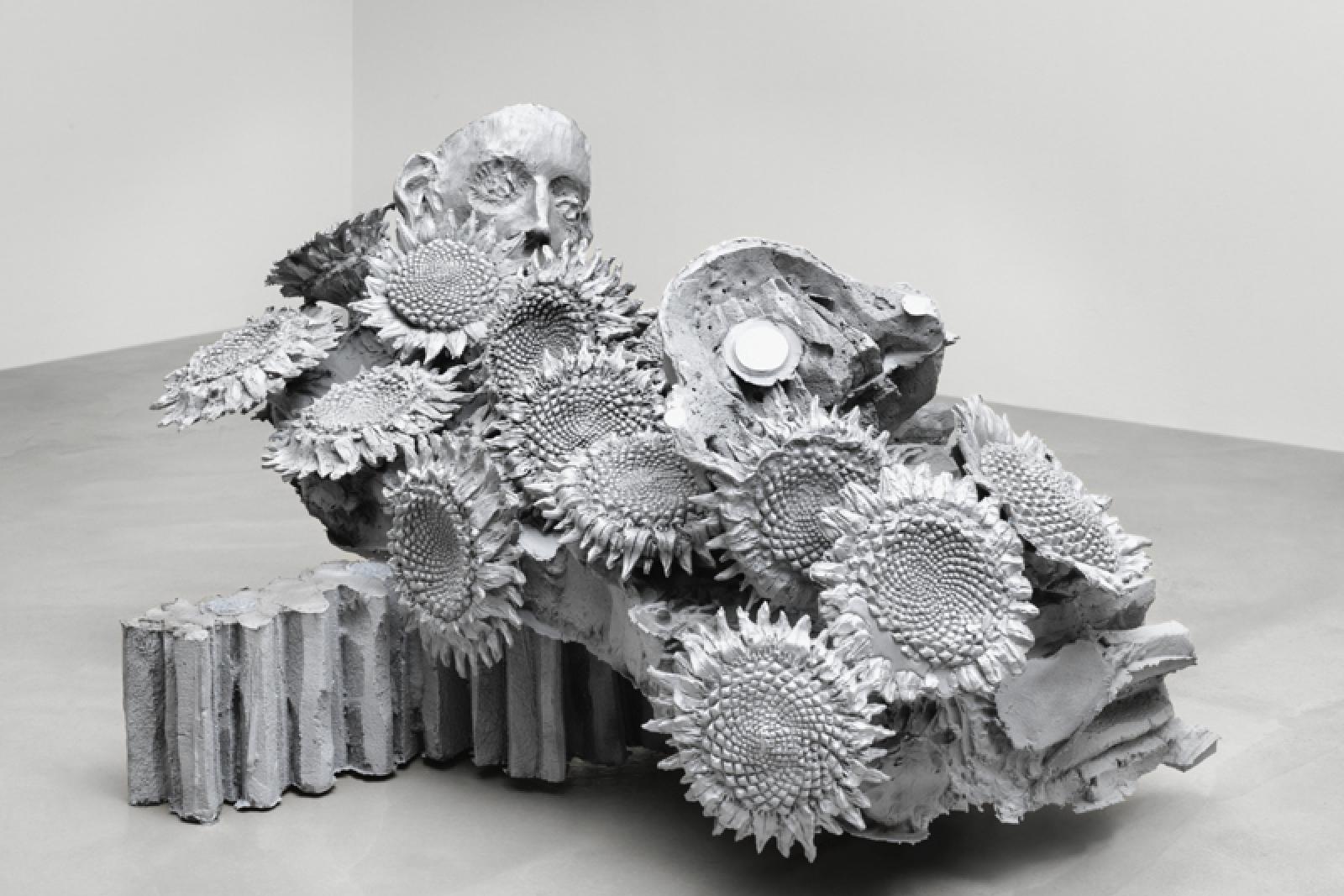 ---
Jean-Marie Appriou (b.1986, Brest)
---
For a long time his studio was in Plouguerneau, on the end tip of Brittany, and it seems to me that a prerequisite to understand his work is to keep Brittany in sight; a country of myths and legends, the land of the Brocéliande forest and of Lancelot, who was raised by the Lady of the Lake. It is a necessary foundation to peacefully enter the complex tales orchestrated by the characters and animals that compose his sculptural universe. In an era where young artists think they have skills ranging across all mediums––painting, sculpture, installation, video––he has effectively chosen to concentrate on one medium only, sculpture, but to explore all its techniques. In a recent exhibition in Zürich, he presented a new group of cast aluminum sculptures, one of them titled Crossing the parallel worlds, which certainly deserves its title. This large composition, tinged in the metallic gray of cast aluminum represents a set of very elongated, perfectly ripened corn stalks, at actual size, which curiously recall the calvary at Plouguerneau church. The exhibition is called November and on the one hand the artworks––cornstalks and sunflowers among others––and on the other the entire exhibition seem to want to connect us with the present time and its cycles of seasons. In these corn stalks' nooks and crannies, organized in volutes, a face appears whose eyes are topped with Charon's obols––the character from Greek mythology who would lead the souls of the dead who had paid with their obol across the river Styx. Undoubtedly, this whole group doesn't shy away from narration, shaping a strange tale supported by a motley iconography.
"The cosmonaut, the beekeeper and the bather are characters with whom I began sculpture. They are bodies to whom, as in theatre, I gave a role to play, and costumes. These characters have been given a script. The child astronaut evokes an uncertain future; he is alone in space. In an early incarnation, the beekeeper who wears the hat of the alchemist from Jodorowsky's Holy Mountain is holding a bouquet un his hand as if he were going on a date, except it's the last bees who are alive on our planet," as he explained about an earlier body of work.
Like the astronauts, the beekeepers and the other "actors" in Jean-Marie Appriou's work, the corn stalks have been fabricated with cast aluminum, a technique he claims to have learned by watching amateur videos on YouTube with "bikers hobbyists who like to make belt buckles on Sundays." Generally speaking, he is intent indeed on teaching himself indisputable skills in all kinds of techniques. He began with ceramic, as he grew up not far from the kilns used by his father, a set designer and sculptor who has created opera and play sets; yet Appriou only learned ceramic techniques shortly after graduating from art school. He says he is again interested in ceramics, now that he has built in his studio a kiln large enough to fire bas-reliefs.  He has also learned tanning; his first artworks in clay and leather already assert an artistic freedom in sharp contrast with our era. Appriou doesn't pretend to master these techniques to perfection, and is weary of the habits acquired by craftsmen. "I sculpt all my models to scale in the workshop before they go to the foundry. Then, with my team, we go see the founders and we make them step out of their knowledge. We reconsider what they see as "mistakes" from a technical point of view." He also relies heavily on the accidents of a self-taught production, and nothing seems to please him more than when finger impressions from the clay model are left on the aluminum once it has melted then solidified. Without a doubt, this is for him a tangible element that allows for connections with another character, the foundry master, and with another narrative. There is an epic dimension in the tales composed by his sculptures, and the uniqueness of this project is exciting when compared to the art made by the same generation. Appriou practices a kind of uninhibited symbolism, which conveys strangeness and dreams à la Gustave Moreau. As he says, his characters have roles to play, stories to communicate. It is necessary to consider them in their theatrical dimension, in their theatrical practice as well since they tell, after all, of a situation.
Appriou offers very naturally, as it seems, a liberating counterpoint to today's art, freeing it from literal commentaries about all the world's ills, drawing it toward a more poetic horizon that is no less connected to the present. For all the epic tales related by his sculptures, they, with their complex iconography, seem to take us back to this current moment in the development of the world and the history of humankind: symbolist, romantic too, Appriou's understanding of this specific moment comes under the guise of a possible journey. He explains, "I like when things are like a William Blake poem. Artists create parallel worlds and allow us to discover them, as poetry has created millions of universes since man became a poet. I don't have any scientific perception of things, but I like to look at their correspondences, observe them as little keys, or as doors which open new perceptions."
––Eric Troncy.