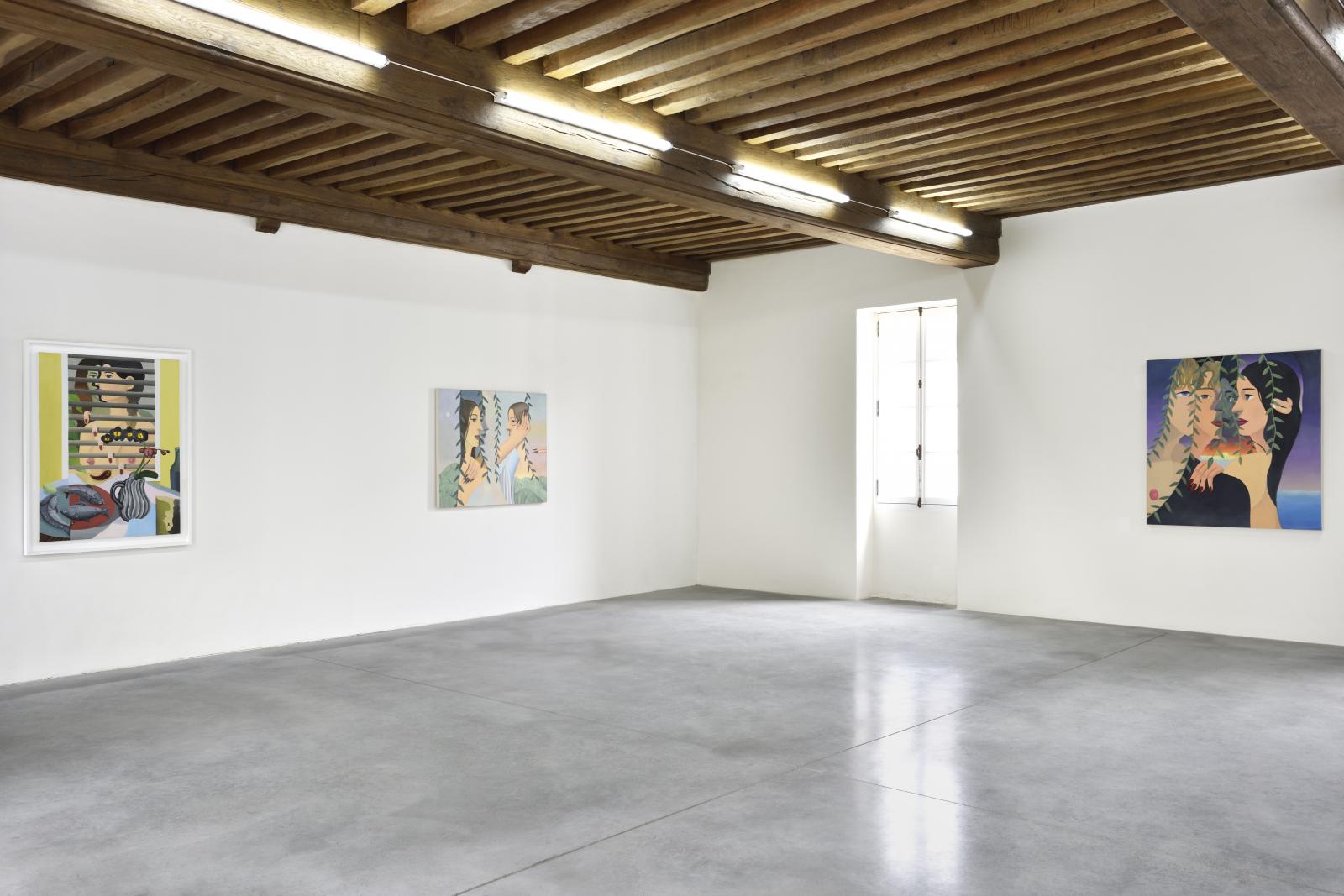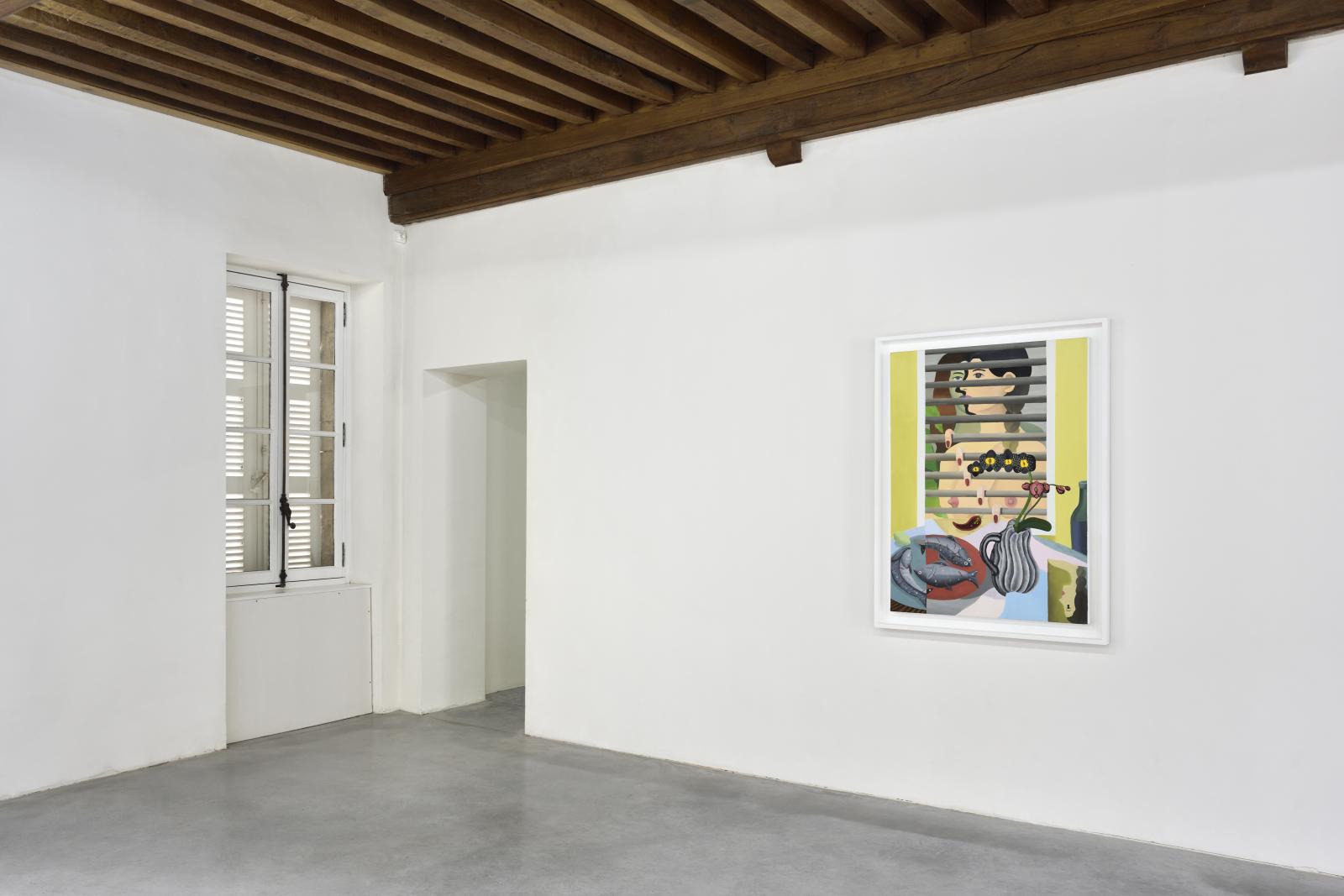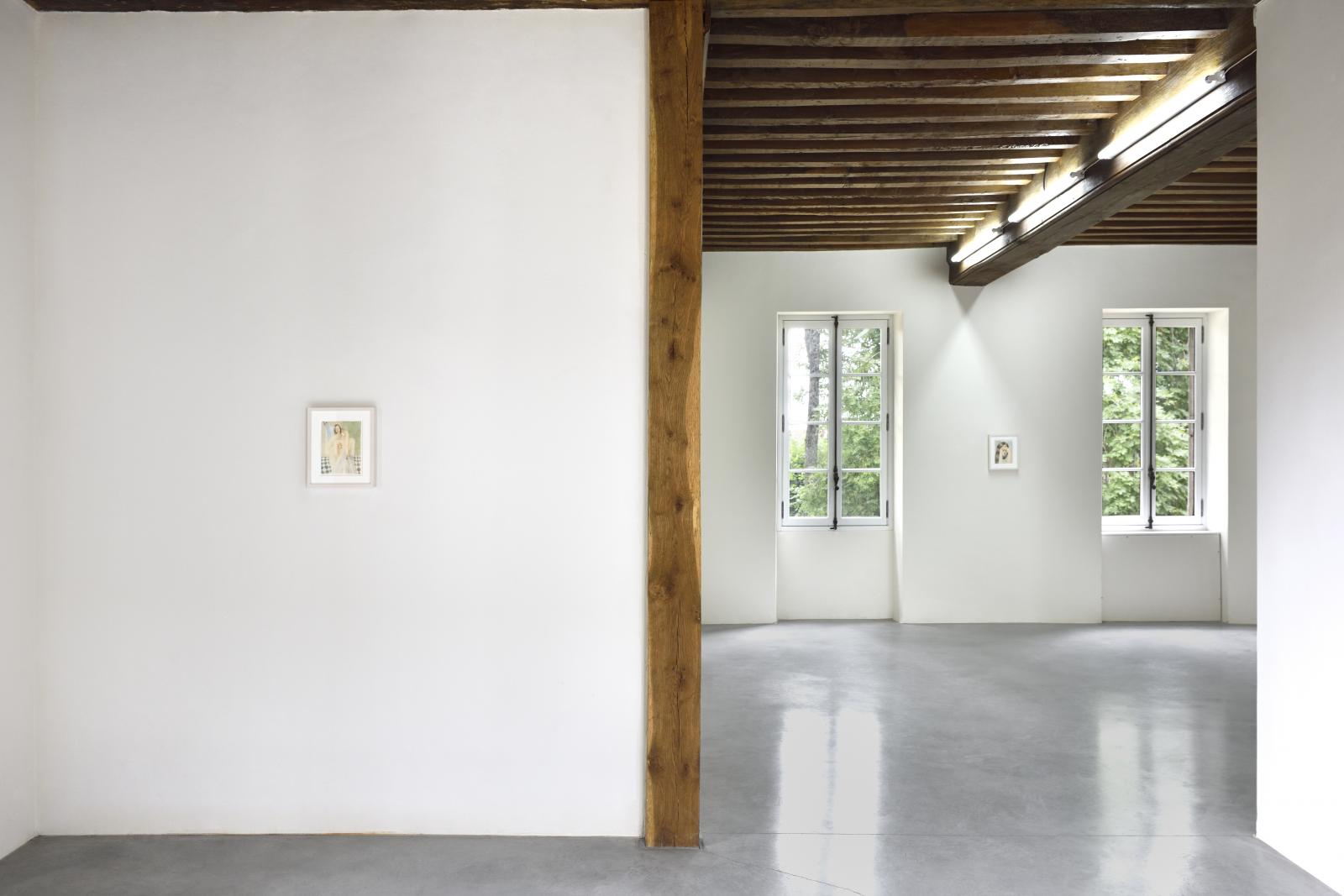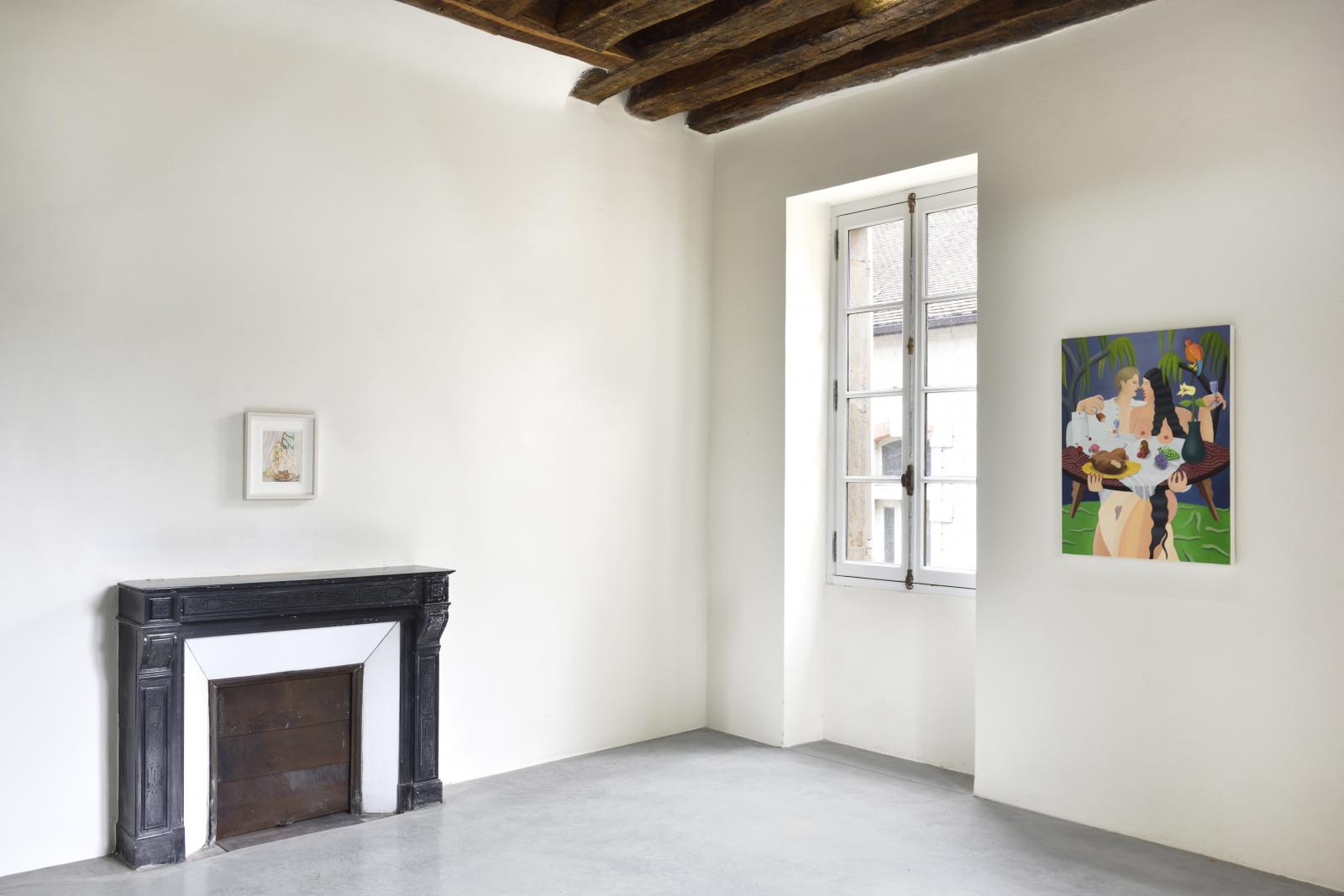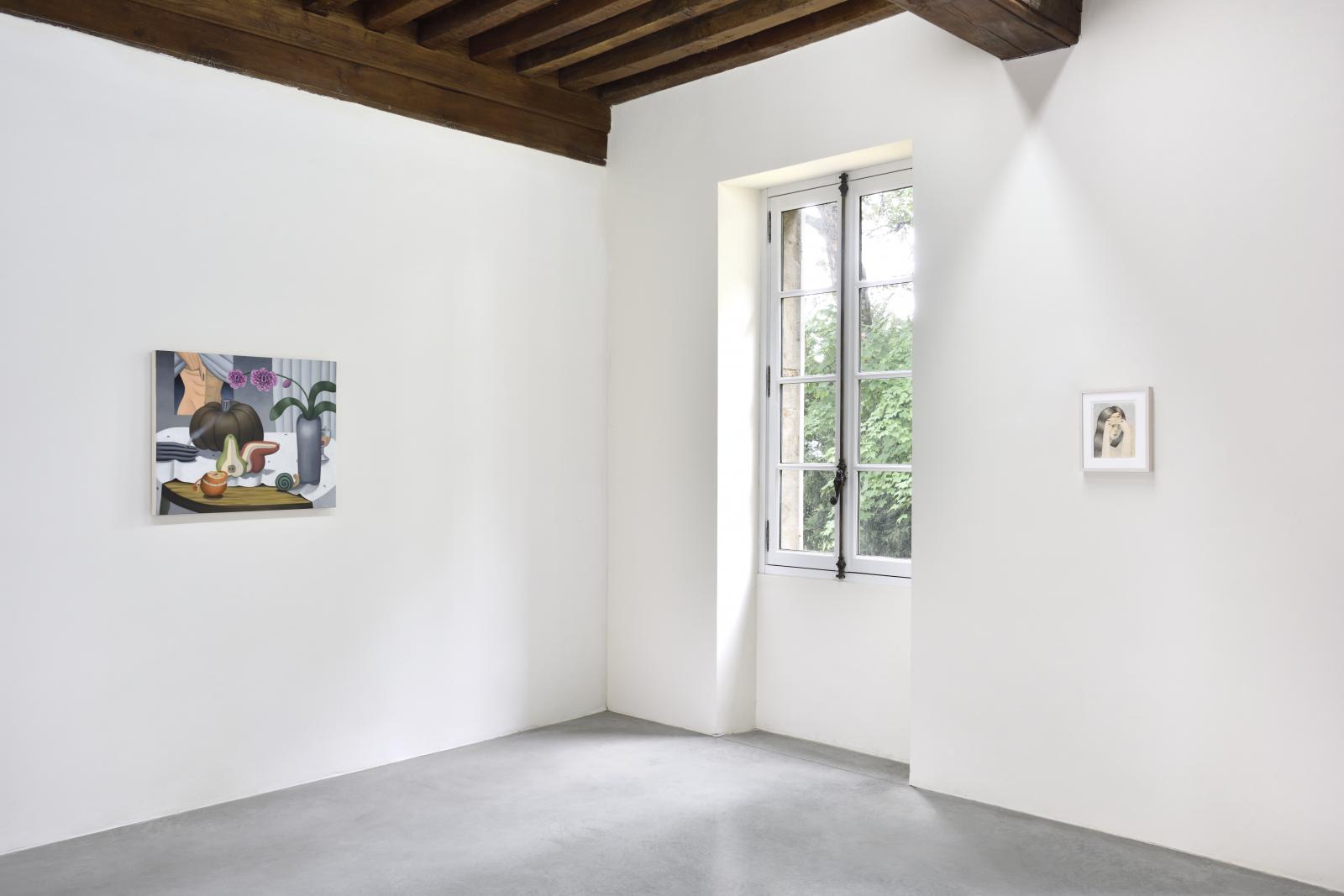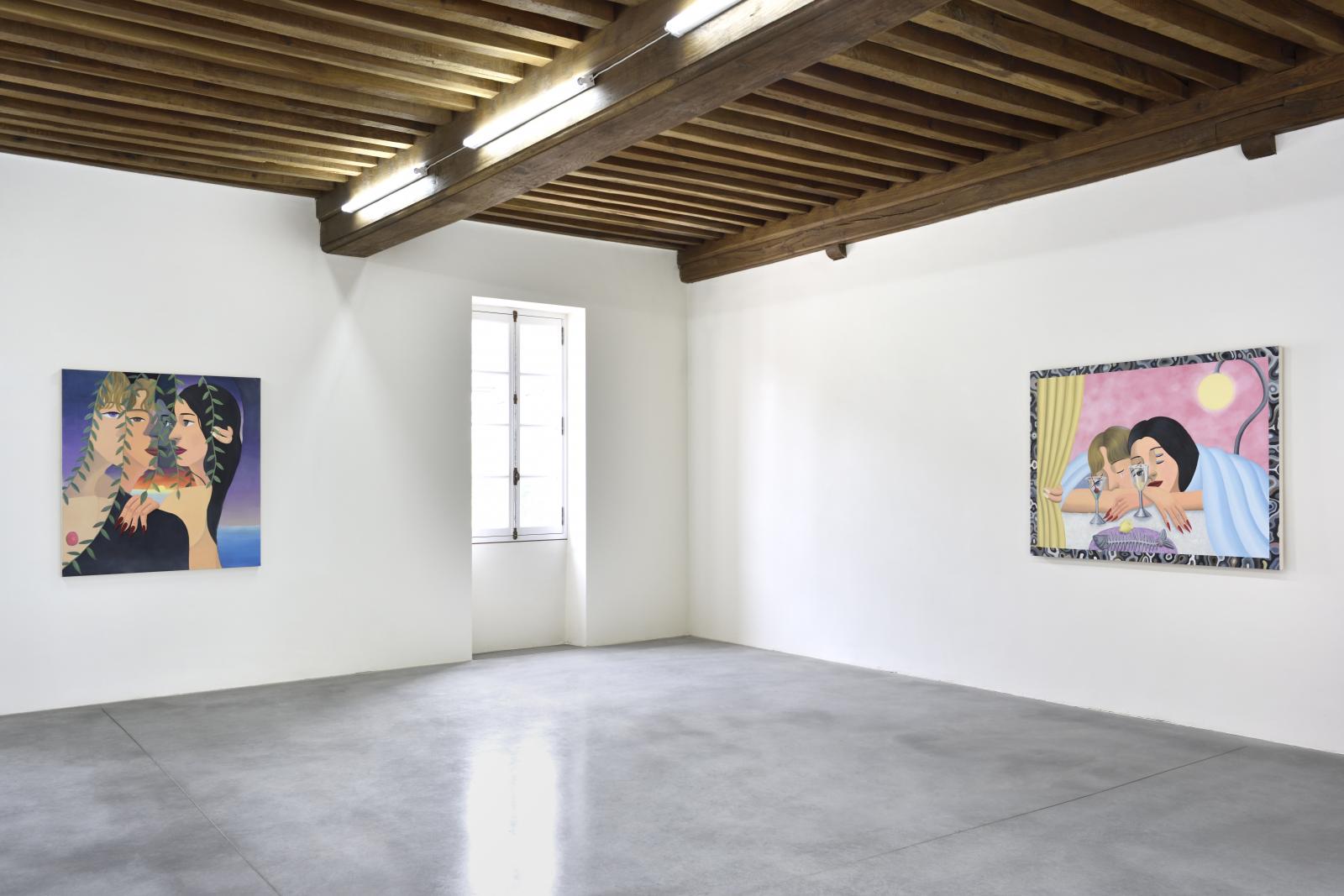 ---
GaHee Park (1985, South Korea). Lives and works in Montréal, Canada. 
---
With generous support from Perrotin.
---
Lovers with Bird, a 20 x 15 cm colour-pencil drawing made in 2021, is an accessible introduction to GaHee Park's work. It loosely ressembles Norman Rockwell's famous Freedom From Want (1942)— a piece which is part of a series of four oil paintings inspired by President Roosevelt's 1941 'Four Freedoms' speech. Throughout Rockwell's life and before a change of mind at the age of 69, the celebrated American illustrator would tirelessly represent traditional American values through the depiction of an invariably happy American society, including during the Great Depression and World War II. Freedom from Want shows a family Thanksgiving dinner with some of the artist's friends and relatives, spread over four generations, a domestic scene in which the mother brings to the table a roast turkey occupying the centre of the composition, in front of a white curtain obstructing the dining room window. In GaHee Park's version, the white curtain also appears (though revealing a background featuring a tree unfolding) as well as the imposing roast turkey. But the traditional family has given way to a naked couple hugging each other, and the young woman seems to be inserting two fingers of her right hand into the rump of the somewhat dazed fowl.
The stylistic proximity of the works of GaHee Park with Surrealism and Henri Rousseau is often evoked, but like many contemporary figurative artists, she combines various influences as precise as they are heterogeneous—some Fernand Léger can be found in Park's treatment of hair; a bit of Alex Katz in her very lightly modelled flat tints; some of Pierre Molinier's exposure and posture of the bodies; elements of Cubism in her two-eyed and three-mouthed characters, and so on. She mainly chooses subjects from scenes of domestic life and the spectator always stands in the position of the 'voyeur', consequently expressing something incongruous: much like in Genesis Belanger's work1, even the fruits and flowers—with an obvious preference for Anthurium—seem to have dubious sexual connotations in Park's still lives, an otherwise quite harmless genre. Her very elaborate compositions feature characters and objects constructing open and obscure stories, never unequivocal, always ambiguous. Depicted by extravagant manicures and lots of cocktail glasses, the frivolous aspects of existence are the frame for these tales imbued with eroticism and impropriety—a kind of 'reflective immoralism' calmly but firmly opposed to 'reflective moralism' which some would like to make a distinctive quality of the evaluation of contemporary works. 'I consider that a piece's moral value is part of its artistic value; that positive moral value increases artistic value, while negative moral value decreases it',2 explains the philosopher Carole Talon-Hugon with astounding aplomb, unwittingly testifying to an era that has seemingly lost all common sense, placing its hopes in the expert hands of sensitivity readers.
Born in Seoul in 1985 and now based in Montreal, GaHee Park explains: 'I drew a lot as a child, and I was interested in images of the body and sexuality. I'd make drawings of couples kissing and touching, or of fragmented body parts, then I would glue the drawings between two sheets of blank paper so adults didn't see them… I guess it's common, kids with Catholic upbringings, such as myself, getting naughty.'3
— Éric Troncy
---
1. The exhibition We Were Never Friends by Genesis Belanger was presented at the Consortium Museum from 7 July 2021 to 9 January 2022.
2. Le Monde, January 27, 2023.
3. Financial Times, Couple up - the art of romance, February 13, 2023.
---
Académie Conti
3, rue de la Goillotte – 21700 Vosne-Romanée 
Opening: Sunday, July 2, 2023 from 2:30 to 6 p.m. 
Opening hours: Sunday 2:30 – 6 p.m. from July 2, 2023 to September 24, 2023. 
Free entrance.
L'Académie Conti is a joint project between the Consortium Museum and the Domaine de la Romanée-Conti.